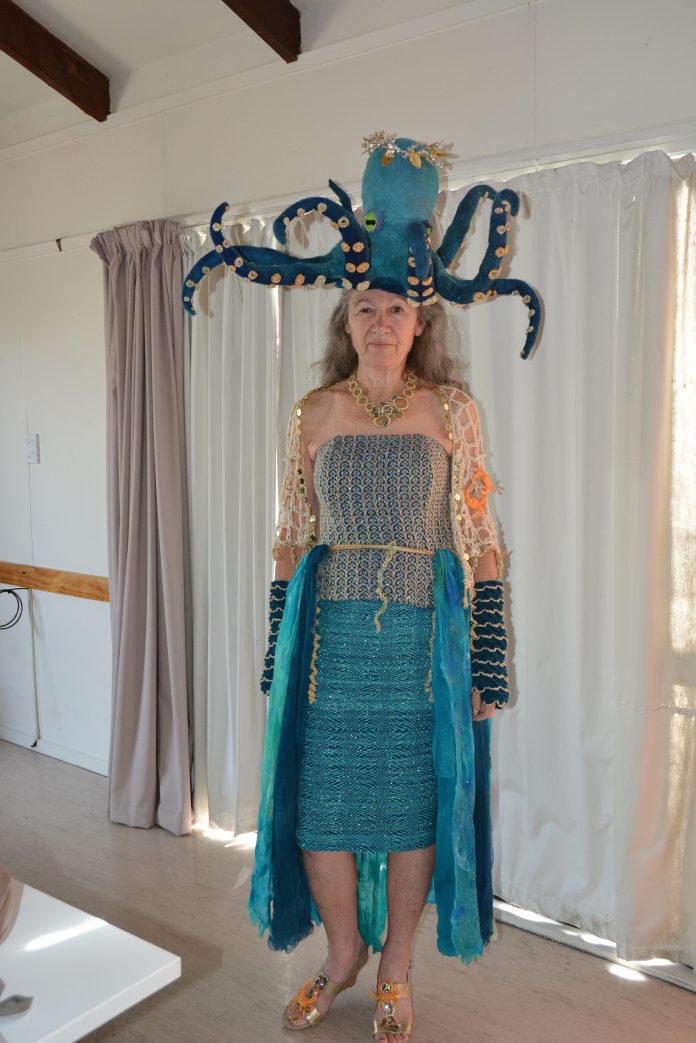 In the April 2019 edition of the Bay Waka we wrote about the Tauranga Creative Fibre group entering a National Competition in Palmerston North. It was a Project Runway entry in our National 50th Anniversary Festival.
This was a very enjoyable Festival attended by many people from all parts of New Zealand.
We took our entry down and put it on display on our mannequin for two days so everyone
could view her. The theme was Gold and Local and there were twelve entries on display in
the main hall of the exhibition.
Our lady model was part of the runway show viewed by all members. The entries were
wonderful and varied. In the end we were judged as coming 2 nd equal. We were amazed and astonished, but very pleased.
Our members had created a wonderful depiction of a Sea Queen. As she paraded among the ladies, all celebrating, she moved smoothly and confidently as people gasped at the striking outfit we had made.
If anyone would to join Tauranga Creative Fibre, we meet every Monday at 9.30am at the
Tauranga Art and Craft Centre, 177 Elizabeth Street, Tauranga. You will be made very
welcome.
Come and visit us and see all the genres we cover.
Please phone Margaret for further details: (07) 571 3483, or visit Facebook: facebook.com/taurangacreativefibre
By Margaret Russell