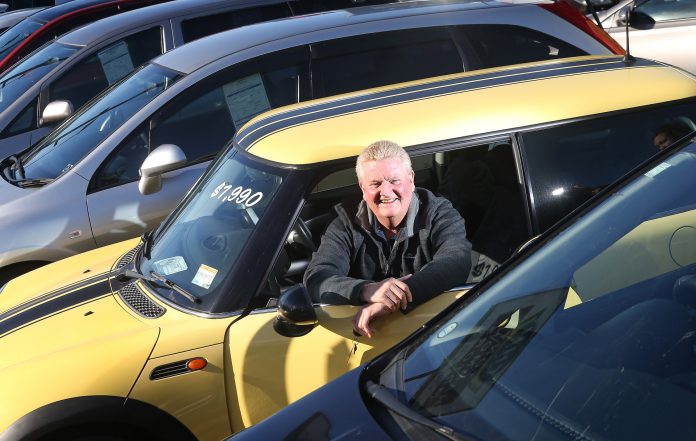 "Come and visit the new yard", he said. "Ok", I said. Tony Hammond Motors has been a foundation advertising supporter from our very first Issue in 2015.
Back then, Tony had a stamp of pride on his half-page advert that stated "28 years on Cameron Road". Four years later, I guess that makes it, "32 years on Cameron Road"!
Since that first issue, every three months I've stopped my car and walked into what was now the previous card yard site on Cameron Road and handed over new magazines to the Tony Hammond Motors team.
Every three months without fail, we had a brief chat about the development plans that were slowly, but surely edging themselves closer to today. Tony always said, "When the new yard is finished, we'll announce it in the Bay Waka".
The Day Has Come
True to his word, Tony called me in after the backlit sign on Cameron Road was finally powered up and switched on for the first time.
Expecting to hear about cars, I was surprised when Tony began to recount his upbringing and national fame along with that of his five siblings, singing as The Hammond Family. He pulled out a record album, newspaper clippings, played songs on YouTube, TV appearances and he and his siblings were also strongly represented in that incredible book, "The Right Note, by Graham Clark (2015) – An insight into Tauranga's Historic Music Scene".
To be perfectly frank with you, I was astonished.
On one hand, I knew Tony was a stalwart of the Tauranga motor industry with a solid reputation, but I had no idea that he grew up so ensconced in the national music industry, sang backup to Roy Orbison, sang the jingles for the new Metric system implementation, all while attending school in Otumoetai.
Tony Hammond Motors Rooted in Legacy
In preparing for this edition, I found myself researching the reputation of "The Hammond Family" in Tauranga. I discovered the best method was to start singing one of their famous songs, "Mama's gonna make a little short'nin' bread"; and invariably that was enough to get an, "Oh, yes, I do remember them".
Being less than five years in Tauranga, and not growing up with a TV in the 1970's, I had never heard of The Hammond Family, but it seems I might be the only one. In Tauranga especially, they were a household name and still are today for many people.
Needless to say, the past four years, following the step by step development and progress of Tony Hammond Motors' new car sales yard at 1206 Cameron Road has been interesting.
It was no small feat to merge three properties into one, including $100,000 of asphalt, so it is worth taking a look around, especially if you like cars, coffee, or want to reminisce!
Our hearty congratulations and thanks to Tony for sharing so much of his personal life with us and our readers and for giving Bay Waka the scoop to announce his new 100-car capacity yard in Cameron Road.
We can highly recommend a visit to this friendly team!

–By Antoon Moonen