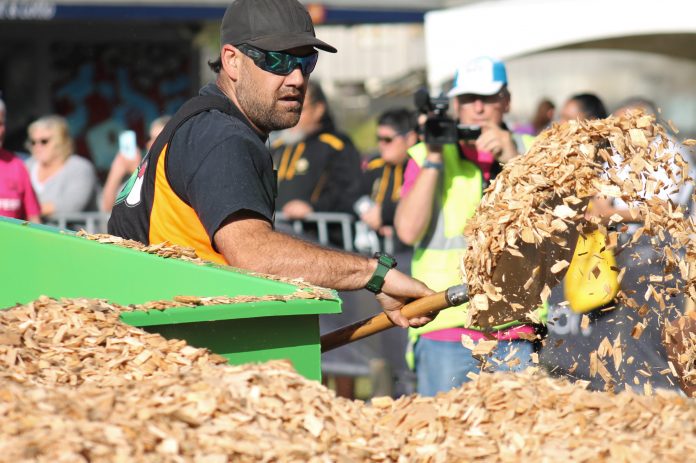 Some towns try to hide their industrial origins when visitors come calling; they don't
recognise that those very origins can be used to draw people in. Not Kawerau. In
Kawerau industry is celebrated – that's what Kawerau WoodFest and Generation Homes National Woodskills Competition is all about.
The events, held every September alongside each other
and this year scheduled for the weekend of September 28 and 29, are built on
Kawerau's forestry history.
A Rich History of WoodFest
The Generation Homes National Woodskills Competition, New Zealand's premier
festival celebrating all things wood, started in 1989. This event kicks off with the
prizegiving on Thursday, September 26 and the exhibition is open to the public from
Friday to Sunday, September 27 to 29.
The Generation Homes National WoodSkills competition moves to the Kawerau
Town Hall in 2019 which makes for a new and central location for the event.
WoodFest followed in 2007 to add entertainment value and boost spectator
numbers. It is now one of Kawerau's iconic events, attracting more than 12,000
people last year, and gives the town a fantastic opportunity to promote itself and
honour its history.
Kaingaroa Forest
The Kaingaroa Forest, near Kawerau, is the southern hemisphere's largest
plantation forest. The Bay of Plenty is one of New Zealand's main forestry regions,
so it's not surprising wood processing is Kawerau's biggest industry. In fact, Kawerau
processes some 13 per cent of New Zealand's total forestry harvest.
The town's geothermal energy makes WoodFest's high-octane activities a natural fit
for Kawerau. The Kawerau district boasts the world's largest application of
geothermal energy for direct industrial use.
This year on the weekend of Saturday and Sunday, September 28 and 29,
thousands of spectators will flock to the Kawerau WoodFest.
Free Activities
All WoodFest activities are free to spectators, and they all celebrate Kawerau's
unique origins.
These activities include a BMX Freestyle show, the Hubbard Contracting FMX Pro
show and wood-chopping and chainsaw pro-logging races.
There is the Ultimate Canines team of working dogs trained by Chelsea Marriner
who is known as one of the country's best dog trainers and has a record of trophies,
including a gold medal form the 2012 IFCS World dog agility championships in the
United Kingdom. Marriner and her dogs perform several free shows over the course
of WoodFest weekend.
Among the star-studded line-up for WoodFest is ex-Kawerau arborist Scott Forrest
who has recently won his fourth world title at the International Tree Climbing
Championships (ITCC) in Knoxville, Tennessee.
WoodFest Talent
There is also a huge array of other local and national talent in the chainsaw carving
arena. To enable true creativity to take place, the Wood Bugs Symposium which will
be held on Prideaux Park this year, starts on Friday, September 20 allowing the
carvers 10 days to create their masterpiece. A silent auction of the works will occur
on Sunday, September 29 at the conclusion of the WoodFest event.
Bragging Rights
There is the opportunity for Eastern Bay residents of all ages to get involved in
some of the best 'bragging right' events.
Entries are now open for the Dream Chaser Truck Pull which entails a team of eight
pulling a 16-tonne logging truck 40 metres along the road. Kawerau District Council
events co-ordinator and WoodFest director Amy Hayes said there is no better way to
get involved in a community event than this.
"It's a big ask but the people who compete each year know they have their work cut
out for them and they do it anyway."
In 2018, there was an all-women truck pulling team put forward by the Dream
Chaser Foundation which is the chosen charity for this event. The truck pull winners
in the 2018 WoodFest competition were Unique Gym.
For those who prefer something a little smaller to man-handle, although in volume it
still offers a huge challenge is the Pacific Toyota Big Dig World Champs and Diddy
Dig.
WoodFest director Hayes said the annual 'Big Dig' team wood-chip shovelling events
in the adults and children's divisions are some of the most hotly contested she has
seen. For the first time the Big Dig pits will be located outside the Kawerau
Swimming Pool complex.
The Big Dig pits teams of four against each other, with each vying to be the first to
shovel three cubic metres of locally produced wood chip into a giant 'Foote' bin.
Knock-out rounds lead to the 'winner-takes-all challenge' with prizemoney up for
grabs. Kawerau-based Hubbards Contractors' Big Dig team Hubbards Razorbacks
hold the record number of titles winning in 2015, 2016 and 2017.
In 2011, the Diddy Dig was introduced to give primary-aged children the opportunity
to show that it's not just the big people who can move chip in a hurry. The Diddy Dig
contestants have to move half a cubic metre of chip into a custom-made bin. Four
teams compete at once, with the top two in each round, advancing to the winners'
semi-final and knockout competition. In 2018, Putauaki School took the title and are already in training to defend it in 2019.
To check out entry details for the above events, please visit https://www.kaweraunz.com/events/events/woodfest.