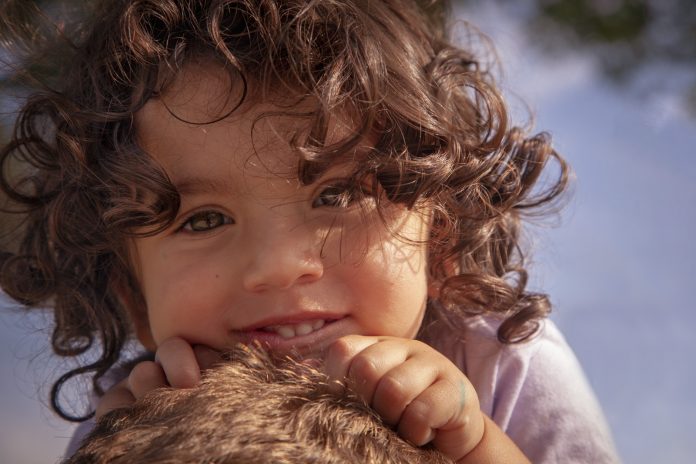 Life is an ongoing series of "moments", each blending imperceptibly into the next. Your job as a photographer [and we're all photographers now] is to capture "the special moments".
Here's one special, fleeting moment captured by my camera recently. When I took
these photos, Sara was a week shy of her second birthday.
Andy [Sara's dad] and I were standing outside the Tauranga mosque, eight days after the
Christchurch shootings. There had been perhaps 600 or more people there the day before [including armed police] but on Saturday afternoon it was just me and Sara's family, looking at the flowers and tributes – and pondering. Andy and I talked for a while.
Then: "Andy, your daughter looks great up on your shoulders. Can I take her photo? I'll email it to you". "Sure," said Andy. My first few photos show Sara as a guarded almost-two-year-old, suspicious of this man [me] she'd never seen before. Quite understandable. Andy and I chatted some more.
When I looked at Sara next, something had changed. There was now a connection between us. Trust. Warmth. Magic. I could easily have missed that moment, but I didn't.
So, are there any "secrets" for capturing "special moments"? Not really, just obvious things like having empathy, being ready and working quickly. The second photo was taken in a matter of seconds, while the magic was fresh.
Other than a willingness to connect with people, the main thing about capturing special moments is being prepared. If you're using a cell phone, that may just mean having it in your hand, "on", and in camera mode. I have a DSLR [a big "real" camera] so in my case, it was a matter of power on, the right lens attached, focal length set appropriately for what may happen, Aperture Priority mode, ISO set to the circumstances [ISO 500 was used in this photo though anything from 200-800 or even 1600 would have worked fine], Autofocus on, Image Stabilizer on, Motor Drive on, and so on. Ready.
Ready for anything. Your mission statement from today onwards: capture with your camera as many "special moments" in your life as you can, particularly those of family and friends. You'll be glad you did. So will they.
This is the first in a series of articles by Kim on helping you become a better photographer.
An internationally-awarded professional photographer, Kim has taught and mentored many hundreds of photographers over the last 12 years.
If you'd like to find out more about workshops run by Kim, go to http://kimwesterskov.com/tauranga-photo-workshops/.
Kim also runs "Photos & Coffee" evenings for keen photographers on the first Tuesday of every month. Free. Supper. Email Kim to book: kimsworkshops@gmail.com.