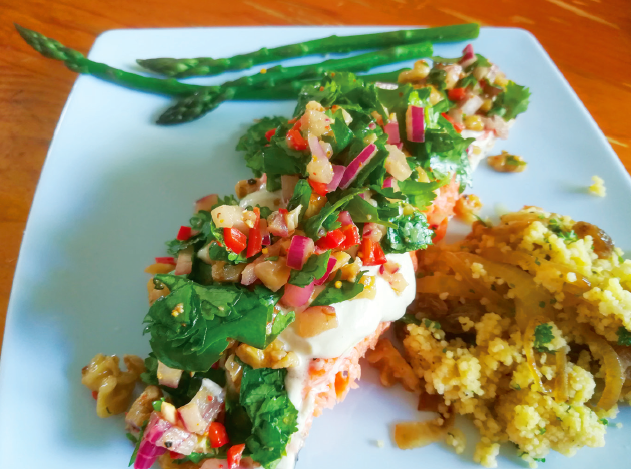 "Here comes the sun" and that signals lighter fresh healthy dishes to be enjoyed with family and friends.
The following recipe is a festive Lebanese dish that I have done many times…nice and light and an explosion of taste and texture….so enjoy!
Summer Festive Salmon This is a show-off dinner party and Christmas lunch dish. As the french say, "le mariage parfait" – the perfect marriage of cooked salmon, a tahini and yoghurt dressing, freshly chopped aromatic herbs and grilled walnuts, and a touch of chilli, is simply a taste sensation.
The dish is served at room temperature, so you can cook the salmon up to three hours in advance.
For 6 persons or 4 very hungry appetites!
Ingredients
1 kg Fresh Salmon or any local fresh caught fish like Snapper (pin bones removed)
Salt (Malton is good) and ground pepper
Extra virgin cold pressed Olive oil (Burts from Farmers market is excellent)
Nutty Cream (yogurt and Tahini)
150g Yogurt (natural unsweetened Greek yogurt)
3 tbspoons Tahini (sesame paste) well stirred
1 clove garlic (try Mr Cooney's Organic Garlic from Te Puna)
Juice of one lemon
1 tspoon freshly ground pepper
Tarator (Herb salad)
60g grilled walnuts
1 cup of fresh coriander leaves chopped
¼ cup fresh mint leaves
1 medium red onion, finely diced
1 long mild red chilli seeded and finely diced
½ tspoon Sumac (red berry that is grinded – that gives a tangy/tarty taste and often replaced lemons. Great on salads and Fish)
60mls extra virgin olive Oil (Burts Frantoio)
Preparation
Season the salmon with salt and ground pepper and a splash of olive oil. Wrap in baking paper and place skin side down. Put onto baking tray.
Bake Salmon for 25 min in the centre of the oven at 150 degrees. Salmon should be medium rare.
Remove from oven and leave to rest.
Chop up roughly the coriander and mint. Add the grilled walnuts, red onion, chilli, olive oil and lemon juice and season. Add the sumac.
To serve the Salmon, smear the exposed surface with a little yogurt tahini sauce, then pack on the Tarator herb salad topping neatly and evenly.
Serve at room temperature with some extra sauce on the side. ..et voila with a nice glass of Pinot Gris
I say "Bon Appetit!
By Chef Stephen, the happy puku
"I write for this magazine because it has such a good open community vibe."