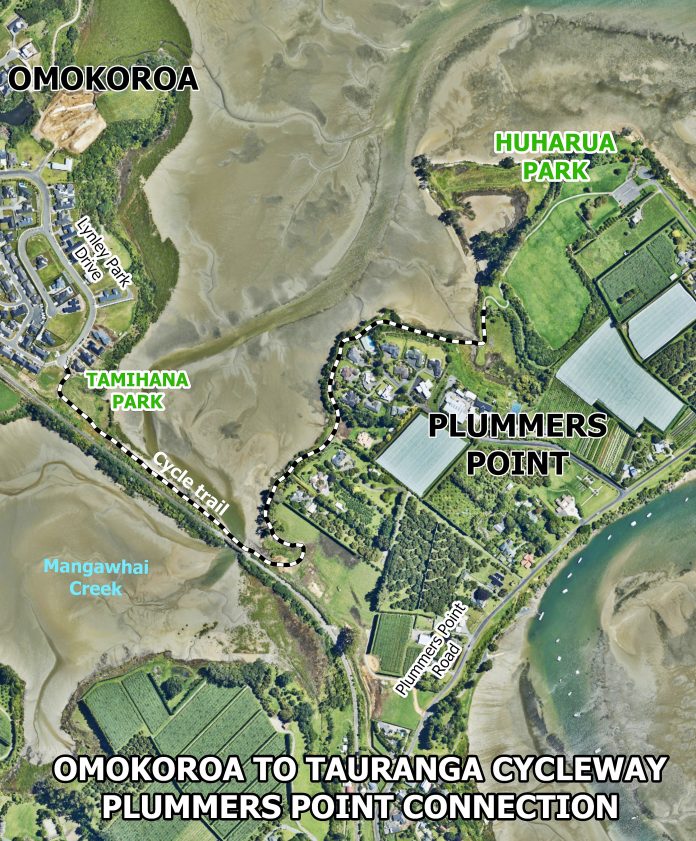 The community are being encouraged to hop on their bikes and test out the latest section of the Omokoroa to Tauranga cycleway next weekend.
Bring your bike, scooter, or walking shoes and come celebrate the completion of the 1.5km Plummers Point Connection cycleway with a community bike ride and walk at Tamihana Park from 10am on Saturday, 20 July.
The cycleway is being officially opened by Western Bay of Plenty Mayor Garry Webber, with representatives from Tauranga City Council, NZ Transport Agency and local hapu Pirirakau.
Once open, the public will be able to set off on a scenic ride from the new Tamihana Park (end of Lynley Park Drive) along the base of the railway embankment, cross the Mangawhai Estuary before following the harbour's edge and esplanade reserve to Huharua Park.
Mayor Garry says it is fantastic to be able to open the next stage of the highly-anticipated 19km Omokoroa to Tauranga cycleway, which once complete will be an incredible asset to the region.
"Already we are seeing the benefits the complete cycleway sections offer to the community and wider Bay of Plenty – whether cycling to work, schools using them as an educational tool or for recreational use.
"It is great to have worked with stakeholders and the community, particularly landowners, to help make this section a reality."
The 19km Omokoroa to Tauranga cycleway is an Urban Cycleways Programme project, jointly funded by Central Government, the NZ Transport Agency, Western Bay of Plenty District Council and Tauranga City Council.
Additional contributors include the NZ Community Trust, TECT and the Omokoroa Community Board.
The Plummers Point Connection is made up of both new and existing off-road shared paths and local road connections that provide a link between Omokoroa and Tauranga City's existing urban cycleway network.
Staged Openings
Three stage openings remain ahead of the project's completion, including the final State Highway 2 bridge clip-on cycleway over the Wairoa River.
Transport Agency Acting Director of Regional Relationships Ross I'Anson says it's great to work with Council and see another section of this incredible cycleway open.
"We want to see more people getting out on their bikes, and cycleways like this make it so much easier to do just that."
On the day, there will be a sausage sizzle, drinks and spot prizes. Dogs can also join in on the fun as long as they are on a leash.
There is on-street parking in the Lynley Park Drive area. Council encourages people attending to walk or cycle to this event.
A video showcasing the new cycleway section can be viewed here.
About the trail
The 1.5km section begins at the new Tamihana Park and runs along the base of the railway embankment, crosses the Mangawhai Estuary before following the harbour's edge and esplanade reserve until it reaches Huharua Park
Trail surfacing is a mixture of gravel, concrete and chip-seal
Trail access points are located at the end of Lynley Park Drive, Plummers Point Road and Huharua Park
Public toilets are located at Huharua Park and Kotuku Reserve